"A Piece of My Mind"
December, 2016 Newsletter from
Donald Shoemaker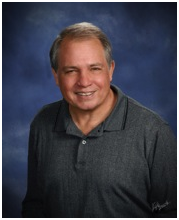 Advancing Christian Faith and Values,
Defending Religious Liberty for All,
Supporting Civility and the Common Good
through Preaching, Teaching, Writing,
Activism and Reasoned Conversations

A Post-Election Word from my oft-counter-culture son, David, who has followed the beat of his own drummer…
"Let's recap this wonderful country of ours! They say this election made history (in fact, they're right).
Yet let's do some inventory into history ourselves—back to as early as the ones who made our nation even possible. Thank God! Imagine what it was like for them… Talk history! If it were not for them, there would be no us."
Missing the Pulse of the Buckeye State
By Donald Shoemaker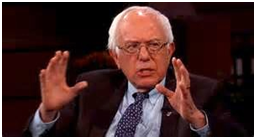 "I think there needs to be a profound change in the way the Democratic Party does business. It is not good enough to have a liberal elite. I came from the white working class and I am deeply humiliated that the Democratic Party cannot talk to the people from where I came."
– Bernie Sanders on CBS Good Morning America (November 14, 2016)
I keep a buckeye on my desk to remind me of my roots, prior to having a good professional career in California for almost 50 years *.
I grew up in a home along a gravel road in a somewhat-poor neighborhood just outside Mansfield, Ohio—a "rust belt" city. Our home at least had running water and a phone (neighbors would occasionally come over to make a call). We knew our neighbors; we didn't lock our doors; most of us owned guns—I did.
When I reached the 4th grade the post-war baby boom hit the public schools. An old school building on the other side of town was reopened. Kids from my neighborhood and from "Little Kentucky" by the steel mill were bussed to it every school day for three years. For sure the kids from more well-to-do neighborhoods weren't bussed. We didn't care—we loved the old building.
Ohio soil germinates a lot of hard-working, blue-collar people with good values, like my father. Most were union members. Over the years, it seemed to me the party that many had once voted for became less and less interested in what I call "lunch bucket issues".
The factory where my father worked is gone **. The union hall where my father played pinochle and I ate donuts is no more.
I think the recent election supports what I've observed over the years. The great celebrity event in Cleveland just before the election was irrelevant to most Buckeyes. Cleveland is the Indians and the Browns, not super-wealthy (and some f-word) singers who knew little and cared less about Ohio.
A traveller was amazed by the yard signs as he drove from Philadelphia to his home in Canton, Ohio. "Once you got to the middle of Pennsylvania, it was Trump, Trump, Trump, Trump…
It was the same in Ohio. When we got home, I told my wife that this election is a complete lock." (New York Times, Nov. 13)
The despair and the disparity were much greater in next-door West Virginia. News reports have depicted the shack-like living conditions and joblessness of many decent people proud of their past and feeling ignored by the political establishment (Ted Koppel, CBS News, Nov. 13; Jesse Watters, Fox News, Nov. 6).
I'm convinced Bernie Sanders is indeed correct.
* I still remember as a high school teen waking up late at night to hear my parents downstairs discuss how they would pay (sacrifice) for me to go to college. In college, I believed I owed them the best grades I could possibly earn. To the best of my knowledge, I'm still the only college grad on my father's side of the family. My career in California has been as a pastor (38 years) and as a university professor (8 years).
** The movie "The Shawshank Redemption" was filmed in the Mansfield area. The shuttered factory (now demolished) where my father worked contained the cellblock scenes. The former state prison near my family home was the film's prison. My mother's office was near where the movie's prison warden shot himself, and I used to wait in the large area where the prisoners' meals were eaten in the movie for a guard to take me to the prison barbershop. I played the organ for Sunday chapel in a building often seen in the movie.
The movie's "Brooks" fed birds in Central Park and crossed the street in front of the building where I would pick up wholesale fruit for the store where I worked. The large tree near where "Red" found Andy's note and money, alas, fell during a storm this year.
I'm thankful…
For my family—my wife of 50 years, my children, my grandchildren, and for the memory of my parents and relatives who have passed.
For the privilege of living in the United States of America—land of freedom (including religious liberty) and opportunity.
Long may our land be bright with freedom's holy light.
Protect us by thy might, Great God our King.
For my career—a mission to serve God and others and to be enjoyed immensely.
For my church for the past 40 years, Grace Community of Seal Beach.
For the good health of my family—never guaranteed but gratefully experienced—and for how God has provided for our needs.
For the Seal Beach Police Department and the privilege I have serving as Senior Chaplain.
Don's Upcoming Ministries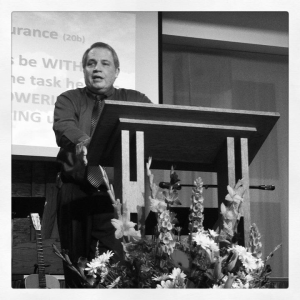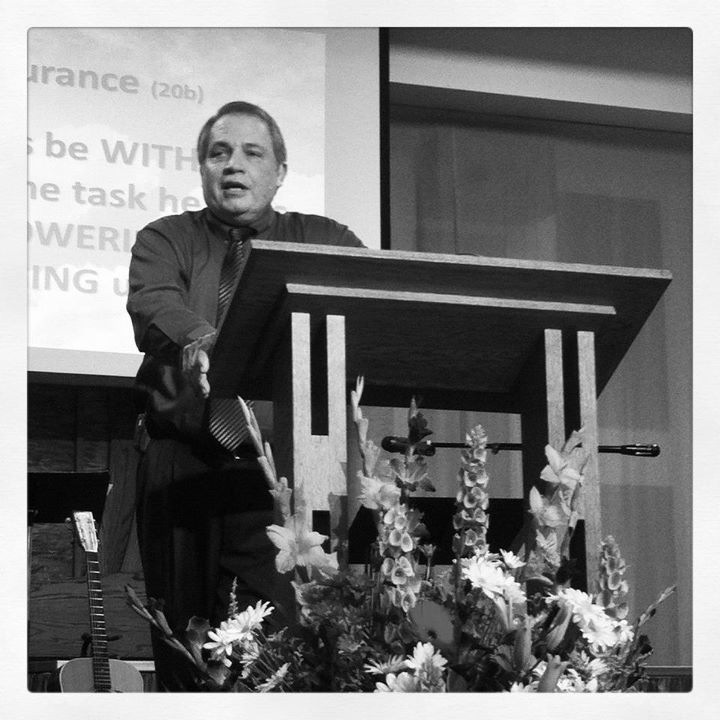 December 24 – Sing "O Holy Night" at Christmas Eve Services, Grace Community Church of Seal Beach.
(4:00, 5:30, 7:00)
January 17, 2017 – Present "Religious Freedom Day Proclamation" to the Long Beach (CA) City Council
Listen to my Recent Sermons
http://bellflowerbrethren.org/Sermons/Entries/2016/11/6_Constructive_Christian_CitizenshipThemes_from_1_Peter.html
"Constructive Christian Citizenship" (Pre-election sermon drawn from the First Epistle of Peter and delivered at Bellflower [CA] Brethren Church)
http://www.gracesealbeach.org/sunday/sermons
(click above and go to the date indicated):
"Giving Thanks-A Missing Jewel?" (August 7, 2016)
Nehemiah 13 – "Time for a Great Reformation" (October 23, 2016)
A Very Merry Christmas to All!
Bible Insight—Songs from the Bible on the Birth of Jesus
Christmas Season is a wonderful time for song. The Advent portion of Handel's "The Messiah" is a top value. As traditional carols go, you can't do better than "Hark, The Herald Angels Sing" (Charles Wesley).
But do you know the Bible itself gives us four Christmas songs? They are often known by the words that open each song in the Latin Bible.
1. Mary's Song – The "Magnificat" ["Magnificat anima mea Dominum"]
"My soul magnifies the Lord" (Luke 1:46 English Standard Version)
This has been rightly called the "first canticle of the New Testament." It is a song of ecstasy—praise to God for his grace and mercy and his fulfillment of his promises to his people.
Its message must be viewed in light of the earthly ministry of Jesus (else it can be twisted to serve secular movements and manifestos). In it we learn that God honors the humble and shows mercy to those reverent in heart. We see God's love for the lowly. And we are warned about pride and the quest for power and the love of possessions.
2. Zechariah's Song – The "Benedictus" ["Benedictus Dominus Deus Israel"]
"Blessed be the Lord God of Israel,
for he has visited and redeemed his people." (Luke 1:68)
Filled with God's Spirit, Zechariah (father of John the Baptist) prophesied that his son will point to a deliverer who will save us from the enemies that afflict us (physical and spiritual) and enable us to delight in doing God's will.
3. The Angels' Song – The "Gloria" ["Gloria in altissimis Deo"]
"Glory to God in the highest,
and on earth peace among those with whom he is pleased!" (Luke 2:14)
This is the best-known "Song of Christmas" from the Bible—impressed into our collective consciousness by works such as Handel's "Glory to God" in "The Messiah" (a chorus that tortures tenors!) and the popular hymn "Angels We Have Heard on High."
The song is by a majestic angelic chorus. They announced praise in heaven and peace on earth. Certainly the story of the birth of Jesus has a peaceful effect in the world. The peace may not be deep and it may not last long when the story is heard, but I'm thankful for it. More important, the story of Jesus brings peace into the lives and hearts of those who truly embrace it.
4. Simeon's Song – The "Nunc dimmittis" ["Nunc dimittis servum tuum Domine secundum verbum tuum in pace."]
"Lord, now you are letting your servant depart in peace,
according to your word;
for my eyes have seen your salvation." (Luke 2:29-30)
Simeon was an elderly servant of God to whom God gave the promise that he would not die until he had seen "the consolation of Israel" (Luke 2:25). When Mary and Joseph presented the Baby Jesus in the Temple according to the Law of Moses, Simeon took Jesus into his arms and, in the words of the "Benedictus", gave praise to God. It was as if he had said, "Lord, I'm ready to go now—I've seen the Savior!"
The secular world offers its many "consolations." Some of them have led to terrible carnage and bloodshed, as we witnessed through much of the 20th Century and still see today. Jesus brings true consolation.
Hope of all the earth Thou art.
Dear desire of every nation.
Joy of every longing heart.
Religious Liberty Vigilance – Anti-Muslim Hatred
The Virginia Legislature that approved "The Statute of Virginia for Religious Freedom" (1786)
"meant to comprehend, within the mantle of its protection, the Jew and the Gentile, the Christian and Mahometan, the Hindoo, and infidel of every denomination."
– Thomas Jefferson
Sadly, several Islamic Centers in California, including one in Long Beach where I live, have received anonymous hate mail in recent days.
Written by a person or persons who claim to be "Americans for a Better Way," the letter is addressed to Muslims as "the children of Satan." It calls them "vile and filthy people" whose mothers are whores and fathers are dogs. It asserts a horrible, twisted patriotism that all Americans of good will must reject.
Those who write such hatred care nothing for the Bible or American ideals.
My Website's Home Page speaks of "How We See God's Kingdom Today" and has this great quotation:
"The Kingdom of God is no longer identified with any geopolitical kingdom on earth. It is no longer the era of driving the nations out of God's holy land but of living side by side with unbelievers in charity.
It is the hour of grace, not judgment."
– Michael Horton, The Christian Faith (2012)
We must live by these words and let the Christmas message point us to the reconciling work of Jesus. He will sort out everything justly on The Last Day. Meanwhile we commit ourselves to living at peace with one another as best we can, not taking revenge, loving our enemies, and overcoming evil with good (Romans 12:17-21).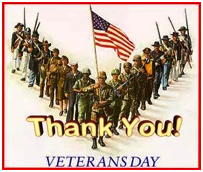 Message & Prayer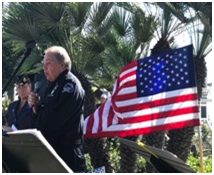 Veterans Day
Ceremony
Seal Beach
A few feet to the west of us is a significant memorial remembering eight innocent people who were murdered in Seal Beach on October 12, 2011. On October 12, a month ago, I joined family members and people of the community there on the 5th anniversary to reflect on that terrible day and console one another.
That was one act of terror against one community—our community. We owe our gratitude to the many first responders, fire and police, and to all who cared for survivors and the grieving.
There have been many domestic acts of terror against our nation—in the past year 16 died in San Bernardino and 49 died in Orlando due to Islamist terror. Again, we owe our gratitude to the first responders and all who provided care.
In today's observance we have honored our veterans and I especially honor those in the military who risk their lives to protect us from terrorism at home and abroad so we may be safe and free.
Among the rights they protect is the right of protest. We may disagree with protestors, but we protect their right to peaceful, lawful protest. Many of us may strongly disagree with those who bow the knee instead of standing during the National Anthem, but service men and women have died to give them that right. I ask you—how many countries against whom we have fought would permit this kind of protest? How many cold war opponents would have permitted this protest?
My concern is when the protest creates a false expectation—as if others on a team have a moral obligation to show solidarity and join in. What do you do then, when another team member has a parent who serves in law enforcement or in the military, or has a family member injured or killed defending our rights?
Or what if another team member comes from an immigrant family that is grateful to this country that has given them so much? These want to stand tall during the National Anthem. Who will show solidarity with them?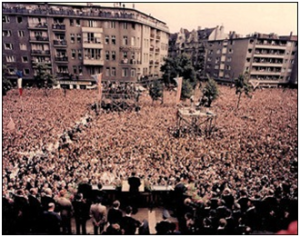 On June 26, 1963, President John F. Kennedy stood at the Berlin Wall and told the huge crowd, "Freedom has many difficulties and democracy is not perfect, but we have never had to put a wall up to keep our people in." We need to ponder his words anew.
Even as we sing, "America, America, God mend thine every flaw," let's stand tall in gratitude to God for all that is good and great about America and in gratitude to those who defend our precious rights, including all our veterans.
With me, I hope you will say,
I'm proud to be an American where at least I know I'm free.
And I won't forget the men who died, who gave that right to me.
And I'd gladly stand up next to you and defend her still today.
'Cause there ain't no doubt I love this land. God bless the U.S.A.
May the Lord bless you and keep you.
May the Lord make his face to shine upon you
and be gracious to you.
May the Lord lift up his countenance upon you
and give you peace.
And may God bless this wonderful country, America!
Website: www.donaldshoemakerministries.com
Contact me at: donaldshoemakerministries@verizon.net