"A Piece of My Mind"
January 2015 Newsletter from Donald Shoemaker
Advancing Christian Faith and Values, Defending Religious Liberty for All, Supporting Civility and the Common Good through Preaching, Teaching, Writing, Activism and Reasoned Conversations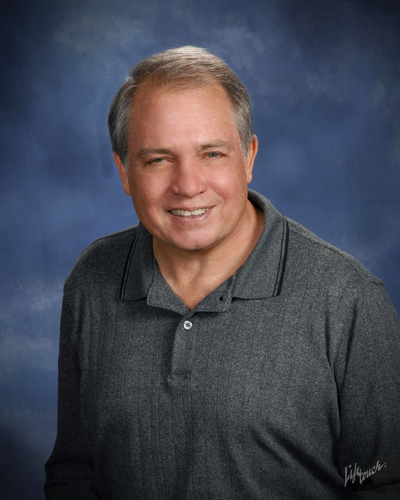 I turned 70 in December. Time for a new picture!
Louis Zamperini—The Rest of the Story
My wife Mary and I visited the Wrigley Mansion in Pasadena the day before the Grand Marshal of the 2015 Rose Parade was announced. We could see the temporary construction where it would be made the next day, but everyone was hush-hush about the announcement.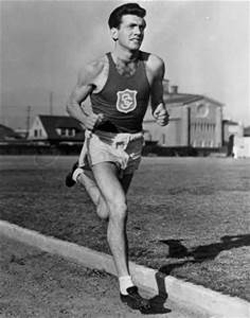 Louis Zamperini would be the Grand Marshal! Olympic runner, World War II hero lost at sea and presumed dead, survivor of a brutal prison camp. He would later struggle with alcohol and spousal abuse and flashback nightmares. Injuries from his prison camp abuse dashed his hope of running in a future Olympics. And he plotted his return to Japan to find and kill his worst prison camp tormenter.
Zamperini died last summer at the age of 97. "Unbroken" has just been released about his life. We saw the movie December 26.
The story's opening centers on the plane crash into the Pacific that left Zamperini stranded at sea for 47 days. It flashes back to his childhood and Olympic experience and then moves forward to his lengthy POW experience in Japan. It concludes with the war's end and his reunion with his family—at Long Beach, California's airport, no less!
Zamperini's promise to God (should he survive his ordeal) and his later religious conversion are tastefully mentioned. But for many viewers, including me, a postscript is needed.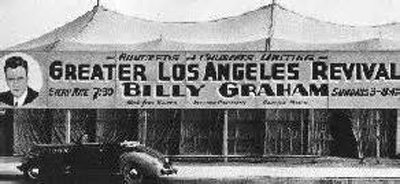 The fabric of his life was deteriorating severely; his marriage hung by a thread. But in 1949 a young evangelist named Billy Graham arrived in Los Angeles for a crusade that extended to eight weeks and catapulted Graham to fame.
Zamperini's wife pled for him to attend with her. He went, kicking and screaming so to speak, but insisted he would walk out when the "invitation" was given at the end of Graham's sermon. Instead, he walked forward and responded to the invitation to give his life to Jesus Christ.
And the rest of his life was transformed. That night, at the time his heavy drinking would typically begin, he poured it all down the drain. His nightmares ended. He later went to Japan to forgive his wartime tormenters (the worst one refused to meet him). He built a ministry for youth who were troubled as he once was. At 80, he carried the torch at Nagano, Japan (near the site of his POW camp) before the 1998 Winter Olympics!
A New Year's Resolution for the Christian Community—Let's Adopt…
A Renewed Paradigm for Worship
I've been an enthusiastic worshipper since I was a toddler (my mother told me I sang really loud). I began planning and leading worship when I was 17. In the points below I try to be creative but make no claim to originality. In fact, I hope most ideas are quite old and enduring. These renewal points come from my general knowledge—change isn't needed everywhere. The points are a work in progress, not the final word, so input is invited.
A Truly Worshipping Congregation
Give worship back to the congregation. Stop the stage-centered professionalism. Get the congregation singing, not just standing—engaged and not mere passive onlookers. Lower the volume, if necessary, so that people can joyfully hear themselves sing. Make the congregation active participants in worship "with heart and soul and voices" ("Now Thank We All Our God" by Martin Rinkart, 1636). Worship can be high quality without being so orchestrated.
In Touch with Our Christian Heritage
Renew worship connection with our rich Christian heritage even as we also sing good current compositions. Put the people in touch with the saints of the past—their struggles, suffering, spirituality, successes and songs. The Holy Spirit didn't first arrive with "Jesus Music" in the 1960's!
The Word of God in Worship
Integrate the Word of the Lord into worship more thoroughly. People need to hear the Scriptures read. If we Evangelical Protestants consider ourselves "People of the Word", why is there more reading of Scripture in a Roman Catholic Mass than in the typical Evangelical service?
The Word Proclaimed and The Word Explained

(Example: Acts 2:14-42)
We must see the distinction between Proclamation of the Word to non-believers and Instruction in the Word to believers—both necessary and complementary. As you plan the worship experience, remember that its primary purpose is to instruct and build up of believers in faith and life. While non-Christians should be invited and, when present, not made to feel like awkward strangers, the worship hour should be distinguished from other occasions that have as their primary purpose drawing non-believers to hear the Word of Salvation and confess Jesus as Lord.
Expository Sermons as a Work of Art
The Message should unfold and apply the meaning of Scripture to the people so they can see what was there all along. While the expository pastor has training and tools available that the rest of us don't have, sermons should not create an unhealthy dependence on the speaker to know what God is saying. Sermons should usually be under 30 minutes—it takes more work to create a tight sermon than an extended one, but it will be a better sermon. Organize the sermon as if it were a work of art, and then maybe it will become one!
"Less" is often "More"

(Ecclesiastes 5:1-2; Habakkuk 2:20)
Musical instrumentation in all its variety is marvelous in worship. But don't forget places for silence, softness and quality a cappella singing. Spoken words are not always necessary and, when they are, few are better than many.
Giving in Worship
Don't forget the giving opportunity within the worship service. Other avenues for giving (payroll deductions, on-line giving, etc.) have a growing place, but must not supersede a time to give in the worship service.
Technology in Worship—Dine with a Long Spoon
Technology must always be the servant of worship, never its lord. People should leave worship thinking, "I've met God today!" Not, "Wow!" Ask these questions when using technology: "Does this feature really enhance worship? Does it point us straight to Jesus? Or does it detract and distract from him?"
Humor Has a Place—Keep It There!

(Ask those "tech" questions again!)
Lightheartedness and laughter have their place in worship, when done with purpose. But the service must never get frivolous and must always lift us above ourselves to God. Humor is one thing, trying to be funny another.
A Real, Live Pastor

(John 3:16 doesn't say God in love beamed down his son.)
The pastor who speaks should be there in flesh and blood, not electronically delivered like a hologram. Pastors, we should not think more highly of ourselves than we ought to think. We aren't indispensible celebrities! The people need true interaction with the pastor during and after the sermon, not an impersonal non-encounter with someone who isn't there. No fleeing to the office after services either—you can keep your energy and still meet people!
Worship Aesthetics
Worship settings don't need to be extravagant, but they shouldn't be bland and utilitarian either. The place of worship is sacred space, removed from the "common settings" of the rest of the week. It's not another "Home Depot"! Worship is a vestibule to the Celestial. In "The Gathering", we are a holy temple of God, a dwelling place for God's Spirit. The visible word should tastefully and purposefully surround worshippers in the worship location through artistic display and symbols, and (yes) even in the windows.
The Eucharist in Worship
The Communion (the Eucharist) should be a regular feature of renewed worship—even weekly. Communion isn't "fast food". Enough time must be given to ponder the Cross, God's grace and our need for repentance. Pastors should declare the good news of forgiveness in the Communion.
Shepherding the Flock in Worship
Pastors should actively lead their people into worship, within worship, and out of worship. This means a pastoral role for the Call to Worship, the Pastoral Prayer, and the Benediction. The people should be led in petitionary and intercessory prayer. Appropriate prayer and anointing of the sick with oil should be provided by the elders of the church.
© 2014 Donald P. Shoemaker
Death in Ferguson & New York City
New York City contributed to Eric Garner's tragic and unnecessary death with its "holy war" on tobacco, similar to the war it attempted on soda (imagine a street vendor resisting arrest and being taken down for selling illegal "big gulp" drinks). Absurdly high taxes are an invitation to many to bootleg cigarettes on the street. Still, there should be little wrong in what Mr. Garner was doing—perhaps warranting nothing more than a ticket. There's a caveat in legislation, "Don't pass a law without thinking someone might get killed over it" because that might well happen someday, somewhere. We are simply over-regulated, and in this case a price was paid. NYC should learn!
No person should resist arrest—EVER. At that point, police cannot back down. It greatly heightens the danger level, besides leading to worse charges.
Eric Garner's case is very different from Michael Brown's case in Ferguson. Mr. Brown had already, just minutes prior, demonstrated his propensity and willingness to do bodily harm through his strong-armed robbery and battery against a convenience store owner (all captured by a store camera).
The constant mantra-like use of the adjective "unarmed" needs to be reconsidered. Sometimes it isn't relevant. Someone with a fake weapon is "unarmed". Someone using a child as a hostage and threatening to twist its neck is "unarmed" and yet lethal force may be justified. One's body can be a weapon, especially in a close-range situation (as Mr. Brown demonstrated at the store and at the police car).
My judgment is that "justice" was pre-determined by many, regardless of the specifics of the Ferguson incident. Many good, sincere and concerned people saw the incident as parabolic—pointing to moral issues beyond the actual incident. With a parable, truth is in the lesson to be learned, not in the specifics of the story. The story is shaped to support the truth-principle it conveys. The problem I have is this: in parables the people who are doing right or wrong are nameless and figurative. The Ferguson incident has names and faces and details open to examination. It is not a parable, but a reality situation where conclusions and justice must be based on actual facts.
My comments above (#5) do not at all mean there shouldn't be some serious examination of relationships between residents and law enforcement in many communities. For that matter, war-like vehicles and tactics belong in the hands of the military (in this case, the National Guard) and not in the hands of community law enforcement.
Officer Darren Wilson resigned from the Ferguson police force and obviously cannot return to his home, the address of which was released. What he can do in the future is, as his attorney said, "anyone's guess." He should receive a retirement stipend since he is unable to perform his duties as a law enforcement officer. This is a regrettable prospect, but many have received retirement from law enforcement with less justification than this.
An important concluding word—these thoughts are not shared in a vacuum. I speak with a high degree of personal memory. In 2010 a neighbor of mine was shot and killed by police in Long Beach, California for pointing a garden hose nozzle that appeared to be a pistol when he was drunk and approached by the police. I conducted his funeral.
No big protests for him.
Don's Upcoming Ministries

January 6 – Present and Support a Religious Freedom Day (January 16) Proclamation before the Long Beach City Council
February 18 – Lead "Ash Wednesday" service at Grace Community Church of Seal Beach (7 PM)
March 22 – Speak in Sunday Morning Worship Services at Grace Community Church of Seal Beach (8:00, 9:30, 11:00)
A Happy, Productive, Meaningful New Year to All!