"A Piece of My Mind"
March, 2016 Newsletter from
Donald Shoemaker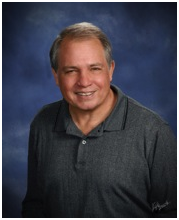 Advancing Christian Faith and Values,
Defending Religious Liberty for All,
Supporting Civility and the Common Good
through Preaching, Teaching, Writing,
Activism and Reasoned Conversations

U.S. Supreme Court Justice Antonin Scalia 1936-2016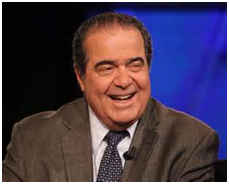 "The Israelites grieved for Moses in the plains of Moab thirty days, until the time of weeping and mourning was over." – Deuteronomy 34:8
"[There is] a time to weep and a time to laugh, a time to mourn and a time to dance." – Ecclesiastes 3:4
I might add: "A time for politics and a time to lay off politics!"
Soon after the death of Justice Antonin Scalia…
The news of Justice Scalia's unexpected death was less than three hours old when the politicking began.
President Obama spoke words of tribute elegant in content, chilly in delivery, and announcing his intention to fill the vacancy.
Senate Majority Leader Mitch McConnell said the selection of a successor to Justice Scalia should wait until after the 2016 presidential election.
Senate Minority Leader Harry Reid issued what CNN News called a "scathing statement":
"The President can and should send the Senate a nominee right away. With so many important issues pending before the Supreme Court, the Senate has a responsibility to fill vacancies as soon as possible. It would be unprecedented in recent history for the Supreme Court to go a year with a vacant seat. Failing to fill this vacancy would be a shameful abdication of one of the Senate's most essential Constitutional responsibilities."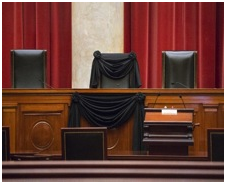 A time out, a time for mourning, is in order please! Mourning serves a role in the grief process and in the body politic. If the government continues "politics as usual" after such a significant passing, then flags at half-mast are but empty gestures.
After this appropriate time out, politics can resume—perhaps made better by the reflection and gratitude, patriotism and a little self-chastening.
In 1960 (an election year—the last year of the Eisenhower administration), the Democrat-controlled U.S. Senate passed Resolution 334, "Expressing the sense of the Senate that the [Republican] president should not make recess appointments to the Supreme Court…" Republicans objected, insisting the Supreme Court should always have a full complement of justices. (Source: David Bernstein, The Volokh Conspiracy, February 14, 2016)
Then-Senator Joe Biden argued in 1992 against filling court vacancies in that election year. The arguments are the opposite today, reinforcing the old maxim, "It depends on whose ox is being gored."
Quiz Time! – Match the Candidate to the Commenta
#1 – "Two Corinthians 3:17, that's the whole ballgame. 'Where the Spirit of the Lord is, right? Where the spirit of the Lord is, there is liberty.'"
#2 –"Until [Jesus] comes again, . . . President-to-be [name], we decree and declare from the crown of your head to the soles of your feet that the favor of the Lord will surround you like a shield, in Jesus' name."
#3 –"Without vision, the people will perish."
#4 –"For people of faith, who care about religious liberty, life and marriage, it's time for us to rally around [name]."
#5 – "…we move into the more disturbing category of Republicans we might charitably diagnose as 'faith-deranged' – in other words, as likely to do fine among the unwashed 'crazies' in the red-state primaries, but whose religious beliefs would (or should) render them unfit for civilized company anywhere else. Among the faith-deranged, [name] stands out."
#6 – How many of the above accounts violate the "separation of church and state"? (a) all of them, (b) #2, (c) #4, (d) none of them
Answers
#1 – Candidate DONALD TRUMP speaking at Liberty University, quoting
2 Corinthians 3:17 wildly out of context.
#2 – Candidate HILLARY CLINTON receiving a blessing (practically an anointing) from 100 clergy in South Carolina.
#3 – Candidate BERNIE SANDERS speaking at a prayer breakfast before the South Carolina primary (and giving Proverbs 29:18 a totally wrong twist).
#4 – Dr. James Dobson, endorsing candidate TED CRUZ via robocalls paid for by Courageous Conservatives PAC.
#5 – Rant in Salon against "God-fearing clowns and faith-mongering nitwits groveling before Evangelicals" levels attack on candidate MARCO RUBIO.
#6 – Correct answer: (d) none of them, although #2 will come close if these clergy speak of their candidate this way in front of their congregations.
In Thankful Memory of John Heideman(1953-2016) Director of Music at Grace Community Church of Seal Beach, CA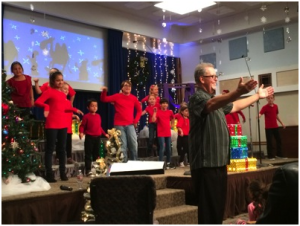 "By mistake" John Heideman, his family and his dear friends came to Grace Community Church that February Sunday morning in 1988. I say "by mistake" because they had intended to visit a different church and ended up at the church where I was pastor. They came, they worshipped, they liked, they stayed.
But it was not "by mistake" – it was in the Providence of God. We needed his ministry. John and his wife, Peggy, and their friends, Vince and Elena Grana, were quite a quartet of singers in those days, and this new talent blessed our congregation. John sang his first solo on the Sunday he joined our church.
He quickly got involved in the audio ministry, so vital to worship services, and in other ministries. Then, in 1991, he became our Director of Music, leading our choir weekly. He co-directed the Community Messiah Choir that performed Handel's "The Messiah" for 10 years. He directed "The G-Kids", our children's choir. He loved leading the crowds in Christmas carols as our choir participated in Seal Beach's Christmas parade. He and I sang the National Anthem at Seal Beach's 5/10K charity races.
For 25 years I was privileged to serve with my brother and friend in leading worship. John fulfilled my requests, shared his skills and insights, put up with my fussiness over worship details—and did it all well. This meant getting late Saturday phone calls from me to hear a last-minute idea I had—and doing it. And we loved singing duets together.
In the fall of 2011 he told me he had cancer. On Easter Sunday, 2013 he told my wife and me that the cancer had spread. Our church board asked me to be his confidant during the last couple years of his life, which was a special honor.
He was a beloved, excellent teacher at Mira Costa High School for 28 years, retiring just last spring. The students gave him an unforgettable royal send-off.
John passed on January 18. I thank God for the privilege of serving with him so long.Over the years I discussed worship topicswith John more than anyone else. In tribute to his contributions to my thinking, here again is my call for "A Renewed Paradigm for Worship."
With special gratitude to God for John Heideman . . .
A Renewed Paradigm for Worship [revised]
I've been an enthusiastic worshipper since I was a toddler (my mother told me I sang really loud). I began planning and leading worship when I was 17. So my heart is really into this subject.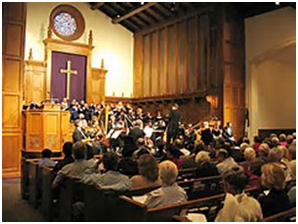 The church is never beyond the need for renewal, and I think renewal of our worship is especially needed now.
In the points below I try to be creative but make no claim to originality.In fact, I hope most ideas are quite old and enduring.
A Truly Worshipping Congregation
Give worship back to the congregation. Stop the stage-centered professionalism. Get the congregation singing, not just standing—engaged and not mere passive onlookers. Lower the volume, if necessary, so that people can joyfully hear themselves sing. Make the congregation active participants in worship "with heart and soul and voices" ("Now Thank We All Our God" by Martin Rinkart, 1636). Worship can be high quality without being so orchestrated.
In Touch with Our Christian Heritage
Renew worship connection with our rich Christian heritage even as we also sing good current compositions. Put the people in touch with the saints of the past—their struggles, suffering, spirituality, successes and songs. The Holy Spirit didn't first arrive with "Jesus Music" in the 1960's!
The Word of God in Worship
Integrate the Word of the Lord into worship more thoroughly. People need to hear the Scriptures read. If we Evangelical Protestants consider ourselves "People of the Word", why is there more reading of Scripture in a Roman Catholic Mass than in the typical Evangelical service?
The Word Proclaimed and The Word Explained(Example: Acts 2:14-42)
We must see the distinction between Proclamation of the Word to non-believersand Instruction in the Word to believers—both necessary and complementary. As you plan the worship experience, remember that its primary purpose is to instruct and build up of believers in faith and life. While non-Christians should be invited and, when present, not made to feel like awkward strangers, the worship hour should be distinguished from other occasions that have as their primary purpose drawing non-believers to hear the Word of Salvation and confess Jesus as Lord.
Expository Sermons as a Work of Art
The Message should unfold and apply the meaning of Scripture to the people so they can see what was there all along. While the expository pastor has training and tools available that the rest of us don't have, sermons should not create an unhealthy dependence on the speaker to know what God is saying. Sermons should usually be under 30 minutes—it takes more work to create a tight sermon than an extended one, but it will be a better sermon. Organize the sermon as if it were a work of art, and then maybe it will become one!
"Less" is often "More"(Ecclesiastes 5:1-2; Habakkuk 2:20)
Musical instrumentation in all its variety is marvelous in worship. But don't forget places for silence, softness and quality a cappella singing. Spoken words are not always necessary and, when they are, few are better than many.
Giving in Worship
Don't forget the giving opportunity within the worship service. Other avenues for giving (payroll deductions, on-line giving, etc.) have a growing place, but must not supersede a time to give in the worship service.
Technology in Worship—Dine with a Long Spoon
Technology must always be the servant of worship, never its lord. People should leave worship thinking, "I've met God today!" Not,"Wow!" Ask these questions when using technology: "Does this feature really enhance worship? Does it point us straight to Jesus? Or does it detract and distract from him?"
Humor Has a Place—Keep It There!(Ask those "tech" questions again!)
Lightheartedness and laughter have their place in worship, when done with purpose. But the service must never get frivolous and must always lift us above ourselves to God. Humor is one thing, trying to be funny another.
A Real, Live Pastor
John 3:16 doesn't say God in love sent down images of his son!
The pastor who speaks should be there in flesh and blood, not electronically delivered like a hologram. Pastors, we should not think more highly of ourselves than we ought to think. We aren't indispensible celebrities! The people need true interaction with the pastor during and after the sermon, not an impersonal non-encounter with someone who isn't there.
And no fleeing out the side door for privacy right after the benediction! I preached three sermons on Sunday mornings for fifteen years, and I know a pastor can guard his energy without avoiding personal time with the people.
Worship Aesthetics
Worship settings don't need to be extravagant, but they shouldn't be bland and utilitarian either. The place of worship is sacred space, removed from the "common settings" of the rest of the week. It's not another "Home Depot"! Worship is a vestibule to the Celestial. In "The Gathering", we are a holy temple of God, a dwelling place for God's Spirit.
The visible word should tastefully and purposefully surround worshippers in the worship location through artistic display and symbols, and (yes, an old idea) even in the windows.
The Eucharist in Worship
The Communion (the Eucharist) should be a regular feature of renewed worship—even weekly. Communion isn't "fast food". Enough time must be given to ponder the Cross, God's grace and our need for repentance. In the Communion time pastors should declare the good news of forgiveness.
Shepherding the Flock in Worship
Pastors should actively lead their people into worship, within worship, and out of worship. This means a pastoral role for the Call to Worship, the Pastoral Prayer, and the Benediction. The people should be led in petitionary and intercessory prayer. Appropriate prayer and anointing of the sick with oil should be provided by the pastors and elders of the church.
I've offered these pointers because I want to keep worship ministries moving in a positive, biblical and God-honoring direction. This will mean moving away from some recent trends in Evangelicalism. It will be well worth it ifwe become better and more biblical worshippers. © 2014, 2016 Donald P. Shoemaker
Don's Upcoming Ministries
March 5 – Share a pastor's perspective on "end of life issues" at Grace Community Church's Men's Fellowship Breakfast (8:30 a.m. at Malarkey's Grill in Long Beach)
March 20 – Speak at Grace Community Church of Seal Beach in Sunday Morning Worship Services (8:00, 9:30, 11:00)
April 1 – Give Keynote Address at New Life Beginnings banquet, St. Mary Medical Center in Long Beach (6:00 p.m.)
April 9 – Sing the National Anthem prior to Seal Beach's 5/10K race.
Opening Words of the Homily by the Rev. Paul Scalia at the funeral for his father Justice Antonin Scalia February 20, 2016
We are gathered here because of one man—
a man known personally to many of us;
known only by reputation to even more.
A man loved by many; scorned by others.
A man known for great controversy and for great compassion.
That man, of course, is Jesus of Nazareth.
It is he whom we proclaim.
Jesus Christ, Son of the Father, born of the Virgin Mary.
Crucified, buried, risen, seated at the right hand of the Father.
It is because of him, because of his life, death and resurrection,
that we do not mourn as those who have no hope.
But in confidence we commend Antonin Scalia to the mercy of God.
The Rev. Scalia truly lived out the words of a letter from his fatherin 1998:
"Perhaps the clergymen who conduct relatively secular services are moved by a desire not to offend the nonbelievers in attendance — whose numbers tend to increase in proportion to the prominence of the deceased. What a great mistake. Weddings and funerals (but especially funerals) are the principal occasions left in modern America when you can preach the Good News not just to the faithful, but to those who have never really heard it."