"A Piece of My Mind"
December 2014 Newsletter from Donald Shoemaker
Advancing Christian Faith and Values, Defending Religious Liberty for All, Supporting Civility and the Common Good through Preaching, Teaching, Writing, Activism and Reasoned Conversations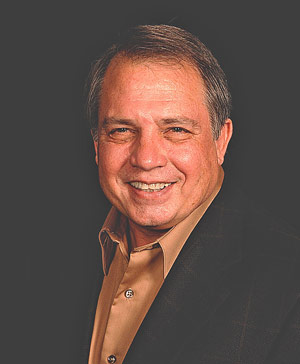 The Very First Christmas Story—A Good Father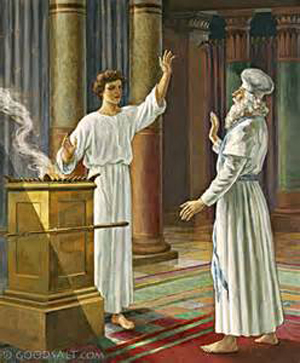 "Do not be afraid, Zechariah; your prayer has been heard. Your wife Elizabeth will bear you a son, and you are to call him John. He will be a joy and delight to you, and many will rejoice because of his birth." (Luke 1:13-14 New Int'l. Version)
The Christmas story doesn't begin in Bethlehem with a manger, the Holy Family, docile animals and adoring shepherds. It begins in Jerusalem's temple. It's a story about an old man—an old priest named Zechariah.
Zechariah was visited by the angel Gabriel, who told him that he would have a son named John (known to us as "John the Baptist").
John would grow up to be a very significant man:
"He will go on before the Lord, in the spirit and power of Elijah, to turn the hearts of the fathers to their children and the disobedient to the wisdom of the righteous—to make ready a people prepared for the Lord"
(Luke 1:17)
So the Christmas message begins with a politically incorrect statement for today: Fathers are important! Not perfect fathers—Zechariah wasn't perfect. Not jerks either, but "good enough" dads who are there to nurture their children and be in a positive relationship with them.
The failure of responsible fatherhood is our society's most consequential evil. As results, we have teenage girls with babies, teenage boys with guns, educational failure, family poverty, and many other negative consequences.
The California Youth Authority incarcerates teens who have run afoul of the law. One Christmas season my church, Grace Community Church of Seal Beach, California, took a ministry team to the CYA facility a few miles away to bring these troubled boys the Christmas story in word and song. Take it from one who shook the hand of almost every young man in that facility (for hundreds—nearly all—chose to come to our two services) and who talked to the chaplains who provide spiritual support to these boys, hardly any have a responsible father role model in their lives. Many of them don't even know who their biological fathers are.
Our society should be encouraging fathers and reconciliation between fathers and children. Instead, fathers are often treated as superfluous and optional and, in entertainment, men who just don't get it. The Christmas message stands against this cultural thinking. The Christmas message starts with a good, decent father-to-be and the son who will be his and bring him joy.
No society can afford the social price of failed fatherhood. The word of the angel Gabriel is drawn from the Prophet Malachi:
"He will turn the hearts of fathers to their children and the hearts of the children to their fathers … or else I will come and strike the land with a curse"
(Malachi 4:5)
Those are our alternatives—reconciliation between fathers and children, or a curse on our culture. Which pathway will we follow?
That's how the Christmas message starts!
Reflections on Religion in Europe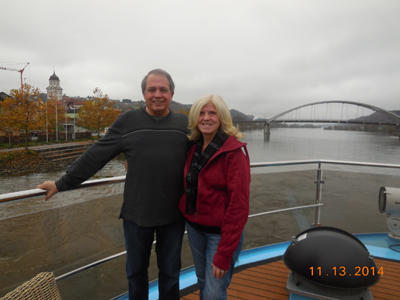 My wife, Mary, and I just returned from a trip to Europe, with four days in Prague and seven on a cruise on the Danube River from Germany to Hungary.
Twelve days in Eastern Europe doth not one an expert make. These are my observations and I welcome anyone's critique:
We were struck with the

depth of history

in these countries, going back centuries and over a millennium—even back to Roman times. Here in urban California, you might declare something historic that's 75 years old, that is if you haven't torn it down already.

Historic religious edifices

are everywhere. This is a visual and intellectual feast to those with historical interests (like me). But a churchman told us it is a financial drain to religious institutions that must maintain these buildings, leaving fewer resources for ministry.
We visited many churches with

glorious, beautiful sanctuaries

. Many times, however,

entryways were foreboding

and sometimes hard to find. In America, we would say the buildings were "not welcoming".
In Germany,

people are taxed to support religion

unless they declare themselves non-religious. Beyond this, the government maintains the outside of historical edifices while the church must maintain the inside.

Christianity has a tradition that is as much as 1200 years old

in some localities, and it was often closely tied to the State through many years and situations. Thus, you see militarist imagery inside churches that may strike an American as strange. But don't forget that secular military might has preserved religious freedom many times in our day.

Communist officials in Czechoslovakia would take note of churchgoers

and punish them with lesser jobs and loss of access to universities. Christian sites were destroyed or converted. Fortunately, the historic library at the Strahov Abbey in Prague survived. [Our special thanks to Fr. Marek for a private tour of the Abbey.]
On a Sunday morning we noticed

very few people attending the churches we saw

as we walked around Prague. We were told that attendees are mostly elderly but that some young people have found the church. This is partly explained by past Communist oppression.
The Roman Catholic Church maintains

considerable cultural influence

in Austria, though I don't know how this is generally embraced on the individual level. For example, by law businesses are largely closed on Sunday. Whatever one thinks of this, I admit to a certain nostalgia about it, especially as I see the new and increasing commercialization of Thanksgiving Day and even Easter in the US.
Our tour guide in Prague talked of her personal involvement in the protests that led to

the "Velvet Revolution" in 1989

. She remains emotionally and intellectually opposed to Communism and supportive of the freedoms that came. Overall, we were impressed with the cultural progress achieved in the 25 years following repression, though no culture is ever without its difficulties. Interesting that the celebration marking 25 years since the1989 fall of the Berlin Wall occurred during our visit.

People made in the Image of God yearned for freedom of the heart and soul and mind

.
"Saved by Faith and Good Works"
or
"Saved by Faith without Works"?
In just over two years we will observe the 500th Anniversary of the start of the Protestant Reformation. How faith and works relate was a key issue.
And the Epistle of James a key book. Even today, we debate the interrelationship of works and faith.
On October 5, I gave a message at Grace Community Church of Seal Beach on James 2:14-26, "Faith that's Worthless and Faith that Works."
I invite you to listen to this message. It can be found on the link below as the message for 10/5/14:
https://itunes.apple.com/us/podcast/grace-community-church-seal/id370162801?mt=2
A Thanksgiving Prayer
Lord, we thank you for the goodness of our people and for the spirit of justice
that fills this nation.
We thank you for the beauty and fullness of the land and the challenge of the cities.
We thank you for our work and our rest,
for one another and for our homes. We pray and give thanks through Jesus Christ our Lord. Amen.
— Catholic Household Blessings and Prayers
Announcing the Birth of Jesus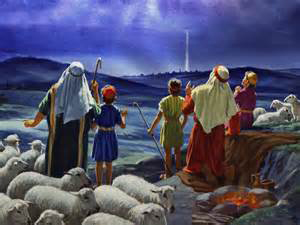 There were shepherds living out in the fields nearby, keeping watch over their flocks at night.
An angel of the Lord appeared to them, and the glory of the Lord shone around them, and they were terrified. But the angel said to them,
"Do not be afraid. I bring you good news that will cause great joy for all the people. Today in the town of David a Savior has been born to you; he is the Messiah, the Lord. This will be a sign to you: You will find a baby wrapped in cloths and lying in a manger."
Suddenly a great company of the heavenly host appeared with the angel, praising God and saying,
"Glory to God in the highest heaven, and on earth peace to those on whom his favor rests."
(The Gospel of Luke 2:8-14)
A Personal Note and a Thanksgiving Story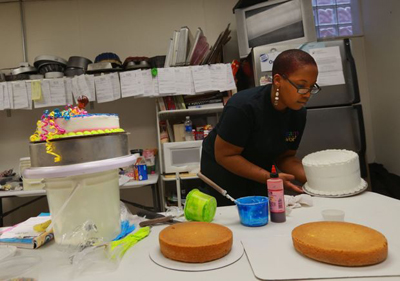 Natalie Dubose of Ferguson, Missouri is a business owner with a cake shop and a bakery dream.
"My shop, which had it's grand opening this summer, was vandalized in the [November 24] riots. My main windows were smashed and bakery damaged. I'm beside myself, but with the holidays, can't stop working. I'm very busy cleaning and trying to repair my business. I'm also trying to catch up on baking cakes for Thanksgiving!"
When my wife and I heard of this we discussed sending a gift to Natalie. Well, that won't be necessary. Thanks to generous people in this good nation, $263,235 has been contributed for Natalie's business by over 8,000 people (November 30 information).
We now have found another outlet for a Thanksgiving donation. But we thank God for generous people and for the determination of victims like Natalie! She extends these words, "I would thank everyone for their warm wishes, empathy, and support during this crazy difficult time."
A Very Merry Christmas to All!
© 2014 Donald P. Shoemaker